As we approach the official start of 2013's Christmas tours, we can now reveal some of the little optional extras we have added for this year's itineraries:
Mince Pie and Wine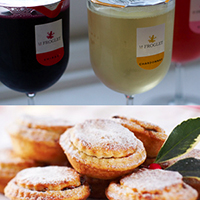 What better way to enjoy the best of the London decorations and lights than with the most famous of English Christmas traditions – a delicious mince pie with a glass of red wine – perfect to keep warm on a frosty Christmas night!
This special treat is available to order with your tour at 10 GBP per person.
Personal Visit from Father Christmas
For many years we have received special requests asking whether there was any way to be able to guarantee a visit from Santa during the Magical Christmas tours. Well, for the first time ever and after much deliberation with the man himself … we now can!
Father Christmas will be taking a well deserved break from his workshop at the North Pole on select dates during November and December to pay a totally private and personal visit to guests who request this service. Magically appearing during the course of your Christmas tour, Santa Claus will be on hand with a special gift to make your tour a truly memorable experience, with plenty of photograph opportunities. Offered exclusively as an option on our private tours.
Luxury Car Upgrade- 50% off Promotion
Wish to sightsee in true style? For that extra special touch, upgrade to our luxury fleet of Mercedes and Jaguar vehicles to enjoy the best of London at Christmas in the utmost comfort. Offered on select dates during November and December at a promotional rate, saving 50% off the standard upgrade price.
—
Watch the latest Christmas tours teaser video, new for 2013 with tour comments and sample tour footage:
Still needing a little extra holiday cheer? Get into the spirit by viewing our official London Christmas Tours video trailer, which is also the featured video of the month at VisitBritain.tv, the TV channel for the official tourist board for Great Britain.
Let us be the first to wish you a magical Christmas season – we look forward to seeing you!