Afternoon High Tea: what could be more British!
Despite being the national drink, it is thanks to Queen Catherine of Braganza, the Portuguese wife of King Charles II, that tea drinking was brought before the English royal court, starting a trend that would expand through the aristocracy of the 17th century and later into popular British culture.
If tradition is to be believed, afternoon tea as we know it today was 'invented' by Anna Maria, the wife of the seventh Duke of Bedford. It was back in 1841 when she first started drinking tea and having a bite to eat in the mid-afternoon, a means of bridging the gap that existed between lunch (eaten at about 1 o'clock) and dinner (eaten at around 7 o'clock). It wasn't long before this become a social event, with the Duchess sending out invitations to guests to accompany her for afternoon tea at 5 o'clock.
By the 1860s the fashion for afternoon tea had become widespread. Such teas were elegant affairs: drunk from the best china and accompanied by deliciously prepared food pieces presented on beautiful china plates. On offer might be bread and butter, scones and cakes, as well as sandwiches with the crusts cut off.
---
London Magical Tours Tea Services
At London Magical Tours, we know the importance of this most British of institutions and are delighted to be able to offer our guests a range of tea drinking experiences to accompany our range of London Tours.
All our tea offerings include priority fast track service, an exclusivity only available to London Magical Tours clients, with a table being reserved and the food freshly prepared in time for your arrival – the perfect way to avoid lengthy lines and help get the most out of your day.
—
Afternoon Tea – Express Service
Guests on all our tours have the option to include afternoon tea with express service at our range of specially selected London hotels.
Treat yourself to freshly made scones with clotted cream and jam, finger sandwiches and a delicious selection of mini pastries, accompanied to drink with your choice of English tea, coffee or hot chocolate. An option with an accompanying glass of champagne is also available.
To view an example of an express afternoon tea menu please click here:
—
VIP Traditional Afternoon High Tea at the Diamond Jubilee Tea Room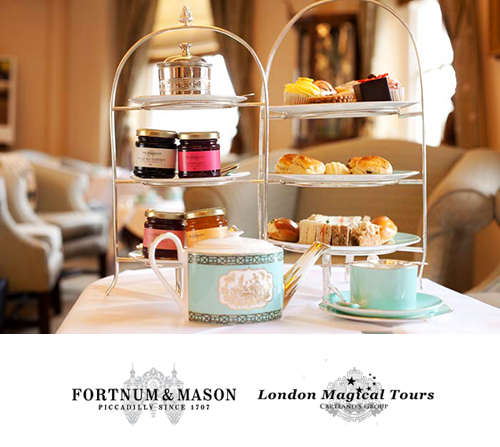 This quintessential tea drinking experience is available exclusively as an option to guests on our VIP level tours.
Founded back in 1707, Fortnum & Mason are Royal grocers to Her Majesty the Queen and one of the most beautiful stores in London.
London Magical Tours VIP clients are offered a special by invitation only experience to enjoy a luxurious traditional afternoon high tea service at the Diamond Jubilee tearoom, opened to celebrate Her Majesty The Queen's 60 years as monarch in 2012.
Offering a fine range of sandwiches, the tea service is accompanied by scones with clotted Somerset cream and a selection of delicious afternoon tea cakes, along with the choice of tea or coffee.
London Magical Tours VIP guests also receive a complimentary gift from the store for their visit – simply present your special invitation to guest services.
To view an example of a VIP traditional afternoon high tea menu please click here:
—
Read more about our range of Private London Tours